Venue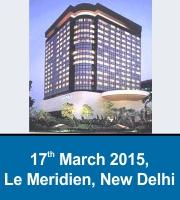 Count Down
Testimonials
Testimonials
Mr Mahesh Sivaswamy,

Chairman & CEO, Transworld Group Singapore

I wish to congratulate you and the Exim India team for having put together this fantastic event.
Mr Chander Kaul,

Regional Manager - North India, NYK Line (India) Ltd.

It was indeed a very memorable evening and we thank you and the team of Exim India to arrange such an event.

We wish you and your team all the success and best of luck for all your future endeavours.
Mr Rajiv Kochhar,

Vice-President (Commercial & Operations), Worlds Window Infrastructure & Logistics Pvt. Ltd.

I would like to congratulate Exim India for organising such a wonderful event successfully for the past many years.
Mr R. N. Katyal,

President, Moradabad Custom House Agents' Association

It was really a wonderful experience to attend CONquest 2015. I express my sincere appreciations to you for arranging such an informative meet.
Ms S. Jayashree,

Manager – Business Development & Customer Relationship, Albatross Inland Ports Pvt. Ltd.

We did have a fruitful time and a good platform to meet various people from the trade.
Mr Nigam,

Manager - Finance & Accounts, Seatrans Agencies (P) Ltd.

It's so nice being a part of this event. Overall, it's too good and thank you so much for such well made arrangements.